THE BASKING JUNGLE GYM.
This enclosure is new for 2001. It is the regular Big Jungle Gym frame trimmed with plastic mesh. This cage is best suited for outdoor use, but can be modified for indoor use.
The front door shown is a hinged double door - although I've since gone back to using the hinged single door, since it provides an unobstructed view into the enclosure, and allows for a separate lower door-within-a-door.
The ceiling is made of two pvc frames covered with plastic mesh, which would also make a good poop-through floor, should you decide to take this enclosure indoors.
Click here to Order this Cage!
Questions? Read the FAQs or email me.
Copyright 2000, 2001 Keith Van Zile
All rights reserved.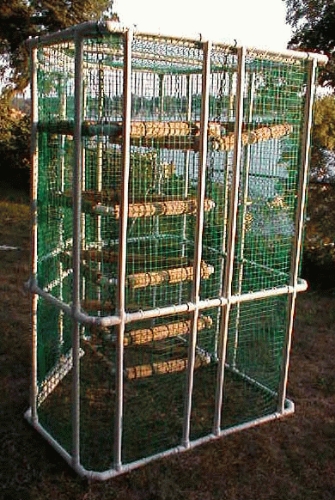 "Very well thought-out designs".
"Great cages. Thank you".
"I gave your name to my vet".