THE BASKING JUNGLE GYM.
Every once in awhile, someone sends me pictures... Thanks!
"I thought I would send you a pic of Merlin in his new cage. I cannot begin to tell you how much he likes his new home. His attitude has improved 100% since moving in. I can actually pet him and spend quality time with him now. He is extremely happy and content. Sometimes he waits for me to move his food to his basking hammock where he spends almost all of his time.. stretched out.. legs dangling down and looking out the window. You should feel really good about your cages.. they are good for the Iguana soul.."
LW in AZ
Questions? Read the FAQs or email me.
Click here to Order this Cage!
Copyright 2000, 2001 Keith Van Zile
All rights reserved.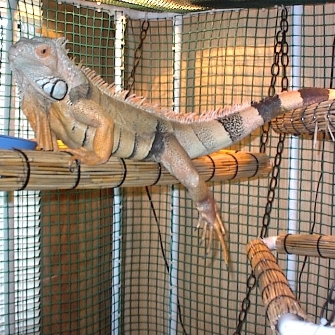 "Very well thought-out designs".
"Great cages. Thank you".
"I gave your name to my vet".