THE BIG JUNGLE GYM.
Here is the Big Jungle Gym frame outfitted with bamboo-wrapped panels. It is indeed beautiful, and thanks to the panels all shipping pre-made, fairly easy to assemble.
The front door shown here is the old double door, which I've sinced replaced with a large hinged single door. Missing from this picture are the door barriers around the top and bottom.
The ceiling is made of two Melamine panels and has mounts for four dome lights. Plenty of room is left over to install a UVb tube fixture.
The climbing poles have been replaced by hanging corner shelves. All but the top shelf are open -- since our green friends love to climb up, down, through and around. The cascading shelves act as a break-fall, whenever the lizard decides to free-fall off the front of the Basking Hammock.
Click here to Order this Cage!
Questions? Read the FAQs or email me.
Copyright 2000, 2001 Keith Van Zile
All rights reserved.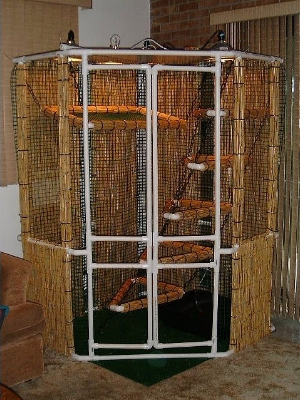 "Very well thought-out designs".
"Great cages. Thank you".
"I gave your name to my vet".