THE BIG JUNGLE GYM.
Here is the Big Jungle Gym ceiling...
It has chrome light mounts with mesh barriers, built into melamine tile board panels.
No problem holding in heat and humidity... and plenty of room for bolting in UVb lights.
If you check out the plans for building this deluxe ceiling, you'll see that you don't need to make two separate panels...
I just do it this way to fit them in the box to ship them.
Questions? Read the FAQs or email me.
Click here to see the Price List.
Copyright 2002 Lizardcages.com
All rights reserved.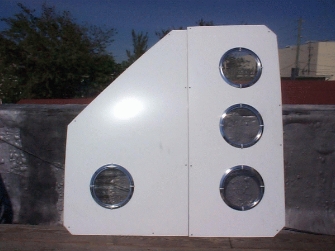 "Very well thought-out designs".
"Great cages. Thank you".
"I gave your name to my vet".