THE MINI JUNGLE GYM.
Here's the Mini Jungle Gym with the ceiling in place...
Add a couple of dome lights over a hanging shelf... and your iguana has a nice cozy spot to watch the world from.
The top three sides here are clear Lucite panels. The back panel and ceiling are made of white tile board.
I'd add a warm water tub on the floor and some more shelves and... an iguana!
Questions? Read the FAQs or email me.
Click here to Order this Cage!
Copyright 2000, 2001 Keith Van Zile
All rights reserved.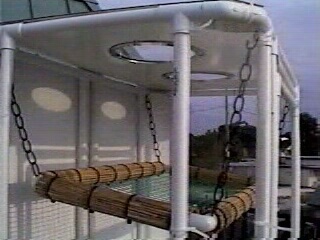 "Very well thought-out designs".
"Great cages. Thank you".
"I gave your name to my vet".