THE MINI JUNGLE GYM.
Here's the Mini Jungle Gym with tropical jungle trim.
The clear Lucite windows provide great visibility and the bamboo trim is a great accent!
There's plenty of room in front of the dome light mounts for a UVb fixture.
The hanging shelf can be adjusted to the angle you prefer - or rather: that your iguana prefers...
This bamboo trim is actually outdoor fence material. It's beautiful as well as hardy. It's held up well to the rigors of iguana cage duty.
Questions? Read the FAQs or email me.
Click here to Order this Cage!
Copyright 2000, 2001 Keith Van Zile
All rights reserved.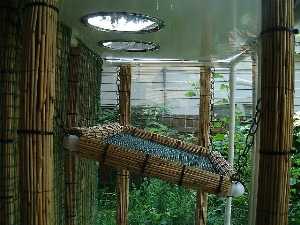 "Very well thought-out designs".
"Great cages. Thank you".
"I gave your name to my vet".