Shelves, Shelves and more Shelves!
I've started making extra shelves and selling them as a cage accessory. I'm keeping a few in stock now and ready to ship out anytime.
Here's my favorite shelf: the Hanging Basking Hammock. The outside dimensions are 19" by 34" and the chains are 14" in the front and 12" in the back -- which puts the shelf approximately 10" to 12" below a UVb tube light mounted over it.
I like the slanted installation -- but it's totally up to you. Extra links are included -- as are extra zip-ties for installation. You can see them there in the center of the mesh, ready to be shipped out. You can also see the open links on the top chains -- which allows for lifting the shelf out on cleaning day.
This shelf looks and works great, just as it is, but I like to put a small heat pad wrapped in a towel on the mesh, which makes for a pretty cozy place to hang out all day -- literally. I like to think that the iguanas enjoy the motion of the hanging shelf... and they can bail out over the side -- any side, any time.
The bamboo material I use to cover these shelves makes them pretty easy to climb onto -- or to hang from -- with those long iggy toes -- when climbing down . Underneath the bamboo is foam pipe wrap. The mesh is dark green plastic mesh. Zip ties make everything very secure.
This shelf makes a great gift for your iggy -- or your favorite iggy owner!
Click here to see the Price List.
Questions? Read the FAQs or email me.
Copyright 2002 Keith Van Zile
All rights reserved.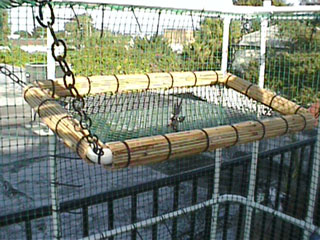 "Very well thought-out designs".
"Great cages. Thank you".
"I gave your name to my vet".