THE BIG JUNGLE GYM. (x2).
If you place two Big Jungle Gyms back-to-back, you form an 8' long, 4' deep, 6' high structure...
Kind of an iguana townhouse.
You could separate two iguanas safely - they could still see each other - just not bite.
Or just leave out those middle divider panels and have one giant enclosure!
Questions? Read the FAQs or email me.
Click here to see the Price List.
Copyright 2002 Lizardcages.com
All rights reserved.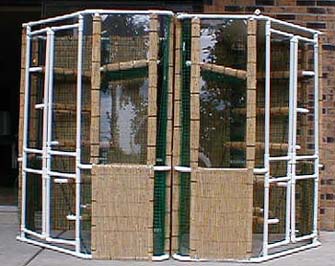 "Very well thought-out designs".
"Great cages. Thank you".
"I gave your name to my vet".