THE BIG JUNGLE GYM
Here's a nice view inside the bamboo-wrapped Big Jungle Gym enclosure.
All the panels are covered in plastic mesh, which provides a nice climbing surface, however, it has unfortunately resulted in the occassional nose-rub problem, as well as not retaining heat and humidity very well...
I plan to fix these problems with the addition of narrow Lucite panes between the panels...
On the white melamine version of the Big Jungle Gym, I trim the outside of the visible parts of the cage with decorative bamboo, which, along with the bamboo-trimmed shelves, provides a very attractive enclosure.
Questions? Read the FAQs or email me.
Click here to see the price list.
Copyright 2002 Keith Van Zile
All rights reserved.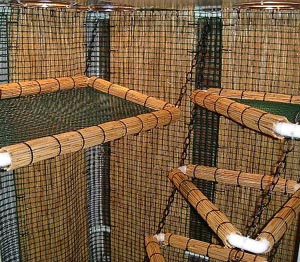 "Very well thought-out designs".
"Great cages. Thank you".
"I gave your name to my vet".