December 2003
It's been about five years now that I've been designing and building cages and adding to this website. It's been going pretty well. Loads of people now have a Big Jungle Gym enclosure housing their iguanas. It's the most popular design by far. I'm happy about that -- and I've been totally impressed by what some people have done with their cage-building projects. I love it when people send pictures.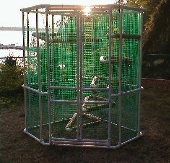 I love the corner cage design. It provides a very roomy enclosure, without overwhelming a room, and it feels very spacious inside. It's 5.5' across, 4' deep and just over 6' tall. I can step inside without having to stoop down. And there's plenty of room for a big tub of water under that bottom shelf. It's lightweight, easy to build, and in my opinion, it's the best value for the money of any cage I've seen. Oh, and it's a great conversation piece, too. Build it yourself or have me build one for you. Just let me know what you'd like and I'll get it together for you.
The Mini Jungle Gym (shown below) is a smaller cage with a lot of the same great features as the Big Jungle Gym: the hanging basking spot, great visibility, easy-to-clean surfaces, a hinged door, lightweight, and it's even easier to build. Add a stack of corner shelves and you've got a great cage!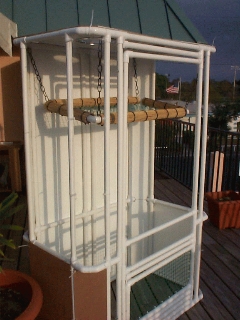 Now imagine a similar cage design configured into a much deeper enclosure... say 4 feet deep, by 8 feet long, by 6 feet high -- or make that 7 feet high if you include the raised floor modifications. Now that would be an ideal enclosure for an adult iguana. I'm calling it the Jumbo Jungle Gym. So now you have three sizes of cages to choose from: the Mini Jungle Gym, the Big Jungle Gym and the Jumbo Jungle Gym. And you also have three choices in coverings: green plastic mesh, white tile board, or bamboo screen trim over the plastic mesh. Once you build one of these cages, you might just want to build another... for example, you could have a Big Jungle Gym covered with green mesh for outdoors and a Jumbo Jungle Gym in the living room and/or a Mini Jungle Gym in a bedroom. The plans are discounted if you choose more than one set... Check the Price List.
I hope you enjoy building your next cage... and your iguana loves it.
-Keith