THE MINI JUNGLE GYM.
The new Mini Jungle Gym has most of the same great features that the Big Jungle Gym has...
The hinged picture-window door with a lower second door... the great visibility... the hanging shelves... the easy-clean surfaces... the lightweight structure... and the great ceiling.
On this cage, I install two dome light mounts, leaving room for a UVb fixture in front.
The panel-based structure is remarkably strong and easily supports all of the weight of the lights, timers, powerstrips and all the shelves you care to install.
One of the greatest things about this panel-based design is that it can expand into a larger cage - just by adding more panels and a new ceiling.
Questions? Read the FAQs or email me.
Click here to Order this Cage!
Copyright 2000, 2001 Keith Van Zile
All rights reserved.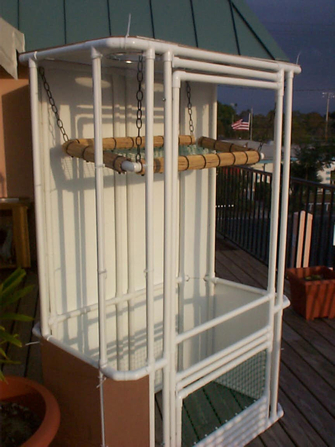 "Very well thought-out designs".
"Great cages. Thank you".
"I gave your name to my vet".